Convert prospects

with marketing video production
Brisbane & Sunshine Coast
Your marketing video = more marketshare
It's a must-have if you want to compete with the 91% of businesses using video as a marketing tool in 2023.
And the 70% of 'non-video-marketers' who plan to start online video marketing this year.
To claim your market share, you have to be in this race – it's a business basic in our visually-driven world.
"Everyone has signed off and is very happy! The marketing team said it was very engaging and heartwarming"
How to use your  marketing video
Marketing videos help you sell Business to Business or Business to Consumer.
On this page alone, you can watch marketing videos used to:
→  Launch a new motor home to a consumer market
→  Promote a bank's connection to their Brisbane communities
→  Market an alternative to diesel in mining operations
→  Explain a superannuation service
→  Promote Queensland agriculture to the world
→  And our dairy industry to an international audience
→  Market a new technology
→  Sell premium senior living in Brisbane
→  Market a Positive Play program for vulnerable children
→  Promote a home building company
→  Raise funds for a Sunshine Coast charity
→  Take the Sunshine Coast region on an international trade mission
Why are marketing videos so effective?
1. Visual Appeal
Visual info is easier to understand and remember
2. Emotional Connection
Videos evoke emotions, influencing decisions
3. Shareability
Increases brand visibility and awareness
4. SEO Benefits
Videos help improve search engine rankings
5. Mobile Friendly
Easy to consume on the go
6. Higher Conversion Rates 
Reduced hesitations equals higher conversion rates
Our video production process
Your video starts with a no obligation chat.
The best way for you to see if we 'click' is to catch up face-to-face, preferably in your space.
If that doesn't work for you, we can Zoom or chat with email.
This is where we dive deep – here's our video briefing questions if you want to have a peek!
If you haven't already been quoted, we firm up your investment.
This will include everything from the script to delivery of all the video file formats and sizes you need.
Then happy dance!
Let's get your video underway 😊
"We used Sound Images to create high-quality videos to bring to life the key value points of Concrete Taxi. I highly recommend Sound Images!"
→ 
Your video is fine-tuned until you love it
We understand your corporate world. 
And "3 rounds of changes" won't work when you have multiple stakeholders in your approval process.
→  You won't pay more than quoted
No surprises with hidden costs.
→  Outstanding quality
All filming is in Ultra High Definition for the highest quality of vision and sound.
To reflect your own high quality.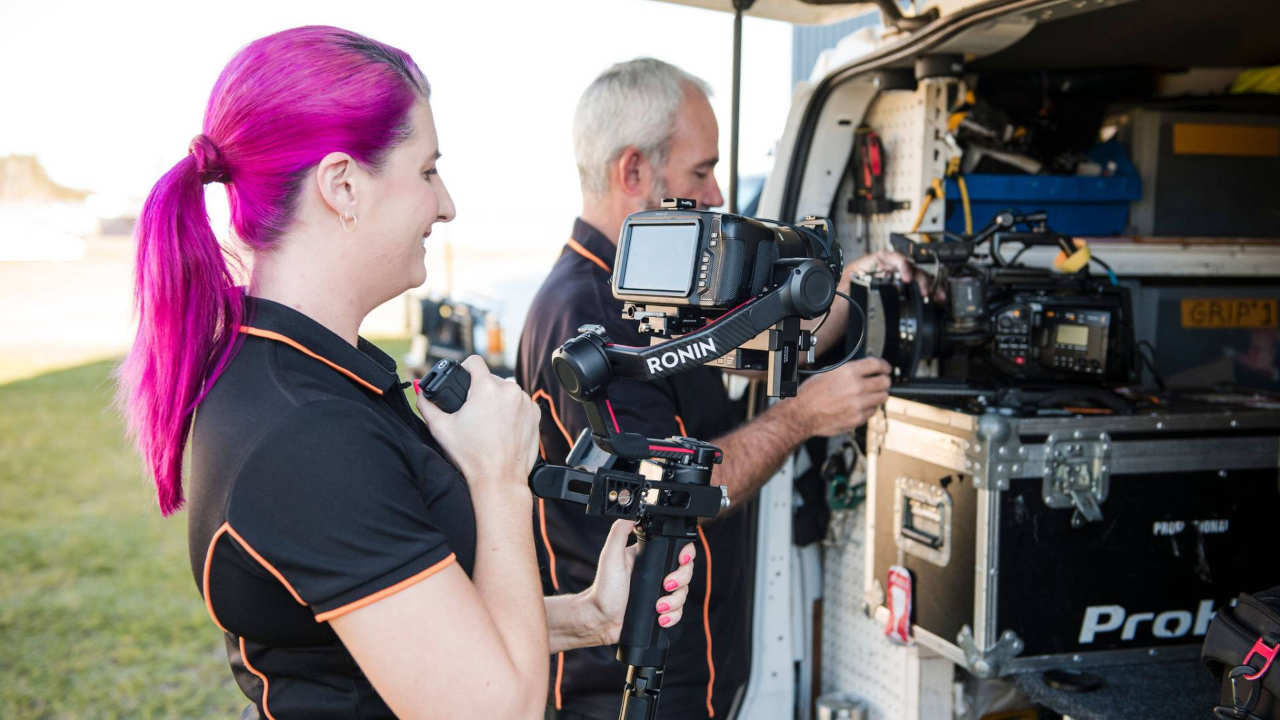 Brisbane
Sunshine Coast
Gold Coast
Queensland
Australia
Most of our clients are based in Brisbane and south-east Queensland.
But we're also experienced travellers, often filming all around the state – and interstate – for clients with multiple locations or stories to be filmed.
P.S. A client recently sent us to New Zealand because she only wanted to work with our team.
90% of our videos are for repeat or referred clients
"When they say unlimited editing, they mean it, showcasing Resi Homes just how we wanted."
Frequently asked questions
What is marketing video production?
Marketing and promotional videos are used to introduce, promote, or explain a company's products or services to potential customers.
An engaging, high-quality marketing video can generate interest and drive customer action across multiple platforms.
Why do I need marketing video for my business?
Your marketing video will boost your business by sharing your product or service benefits, attracting and engaging your target audience, increasing brand visibility, and ultimately driving conversions and sales.
91% of businesses now use video for marketing. That's a clear message that video works and it needs to be in your content mix.
Video on website landing pages increases conversion rates by 83%.
Stats also tell us that more customers buy after viewing marketing videos.
Because video content is a more engaging experience for your website visitors, Google rewards this with improved SEO ranking, driving more website traffic.
Video is unmatched for its ability to create an emotional connection. It's the most powerful medium to deliver brand credibility and boost the confidence of a prospect.
How much does marketing video production cost?
The cost of video production will vary based on each production company's rates and the scope of each project.
As a ballpark, most corporate videos involving filming are custom quoted from around $4,500 to $15,000 plus GST.
Our Sound Images process is to understand your brief and then provide you with a fast and firm quote.
We back this up with our 'love your video' guarantee to fine-tune until you and all your decision-makers are 100% satisfied with your video.
This is unlike most video production companies who limit you to 2 or 3 rounds of revisions.
How do I find the best video production company?
This should be rephrased as the 'best video production company for you'.
First, you need to make sure you like the videos in the portfolio of each production company you review.
Look at their years of marketing video production experience and client testimonials.
Once you've shortlisted potential production companies, you should ask for a quote to rule them in or out for your budget.
Always double-check what's included in each quote to make sure you're comparing apples with apples and you won't be surprised with unexpected charges.
One of the most important things to consider is how they'll guarantee you'll love your video.
How many rounds of fine-tuning will they give you? If you have multiple decision-makers who need to approve the video, 2 or 3 rounds of revisions usually won't be enough.
Our Sound Images guarantee is no limit to the number of fine-tuning rounds.
Ask about their video production process. Do you have to provide your own video script or will they write the script for you?
How much do you need to be involved and how do they keep you in the loop?
Finally, meet face to face if you can – because the final decision should come down to how you 'click'. Your gut instinct should tell you whether you like this team and if you'll work well together.
How long does it take to produce a marketing video?
Do you have a deadline or target completion date for your marketing video?
Even though an ideal timeframe to allow for the production of your marketing video is 4 to 6 weeks, if you have a deadline we'll work back from that.
Let's break down each video production step:
Allow a week for the script to be written and another week for the script fine-tuning.
Ideally, a week should be allowed after the script is written to plan and prepare for the filming.
Most marketing videos need between one and three days of filming.
Editing usually takes about a week until the first version is ready for your review.
The fine-tuning stage will depend on how many of your team need to review the video, how long they'll take to give feedback, and the number of review cycles.
Our Sound Images guarantee is no limit to the number of revision rounds, but most production companies will give you only 2 or 3 opportunities to fine-tune your video.
With your video approved, allow a few more days for the creation of all the formats and video sizes you need for each platform.
Can I use a marketing video across different platforms and channels?
A marketing video is versatile and can be used across multiple platforms and channels.
Showcase your video on your website
Use in blog post
Create a dedicated landing page for the video with a lead capture form
Upload to YouTube or other hosting sites like Vimeo or Wistia
Add links to the video in email marketing campaigns
Add a link to your email signature – and those of your employees
Display it at trade shows or events
Webinars and virtual events
In-store displays
Collaborate with other businesses or organisations to showcase the video on their platforms or as part of a joint marketing campaign
Use shorter extracts for cinema or television advertising
Share shorter extracts on social media platforms like LinkedIn, Facebook, Instagram, and YouTube
Online video ads on advertising platforms like Google Ads and Facebook Ads
The key is to adapt the video format and length to suit each platform for optimal reach and engagement.
What services are included in marketing video production?
Marketing video production services in usually cover each stage of the production process:
Video script writing
Preproduction to plan for the filming and editing
Filming with professional camera, audio recording & lighting equipment
Voiceover recording
Music selection
Graphics and animation to be used in the edit
Editing and colour grading
Fine-tuning the edit, based on your feedback
Creation of all the extracts, file formats and sizes you need to play your marketing video across multiple platforms
Video production customised to

meet your budget
As a guide, our all-inclusive video productions start at around $4,500 + GST. 
Most  videos will fall somewhere between this and $15,000, depending on the number of filming days and the complexity and length of the edit.
This includes everything from script to screen and all the versions you need for each platform.
And here's where we're different: you have unlimited fine-tuning rounds until you love your video.