Fountx assisted technology case study
"The whole exercise has been such a wonderful experience.
From the first meeting, through filming and editing, resulting in an outstanding marketing video."
Laurence Beraldo, New Technologies Manager, TAE Aerospace
In remote locations and without access to technical data, it's reassuring to know that expert help is always at hand.
Wherever and whenever you need it.
Fountx, a subsidiary of TAE Aerospace, has developed a wearable assisted reality technology that can significantly boost the productivity and capability of technical teams.
Designed for complex industrial environments, it creates a shared field of view between an off-site expert and an on-site technician, making a wide range of tasks faster, cheaper and easier.
[The technology behind Fountx was developed by the CSIRO, Australia's premier industrial research organisation.]
2. Why did Fountx need this video?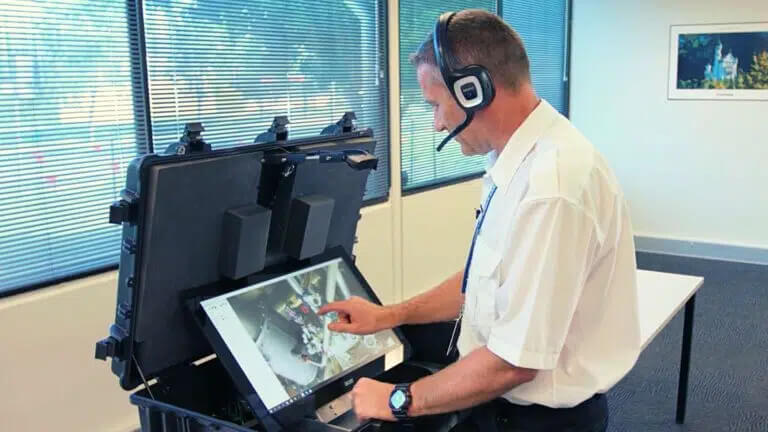 This type of assisted reality technology is new.
And 'new' needs a marketing video to promote and explain the benefits for technicians working in remote industrial environments…
…and progress the product into testing and take-up across various industries.
Unlike many other wearable remote assistance technologies or 'smart glasses,' Fountx maintains the spatial awareness needed to perform complex tasks safely and to the highest quality standards.
The system's near-eye display is there when you need it and out of the way when you don't.
3. The standout benefits to include
Technicians can perform remote complex maintenance with an expert looking virtually over their shoulder
Fountx doesn't affect the technician's spatial awareness or increase cognitive load – this is a big advantage over virtual or augmented reality technology
Technical teams can access guidance by glancing up to an above-eye display, while still clearly seeing what's right in front of them
The system's near-eye display is there when you need it and out of the way when you don't
Knowledge usually locked up inside facilities can be easily shared out in the operational space
Downtime and maintenance costs are reduced
Complex maintenance tasks are completed quickly, at lower cost and – most importantly of all – safely
4. What did we film?
The technology comes in 2 parts:
the operator station, with its lightweight near-eye headset and wearable computer
a touchscreen expert station used off-site
To show this in action, we filmed:
2 technicians working on 2 different complex engines
2 experts, guiding them from off-site
For the video opening scene, we filmed a boy and his grandfather building a model plane.
5. Where did we film?
This video was filmed in 4 Brisbane locations:
The Aviation Australia Simulator Centre, Eagle Farm
Brisbane Airport under a 737 freighter aircraft
The TAE Aerospace test cell at RAAF Amberley
A private home for the boy and grandfather opening scenes
6. How was the video used?
Trade shows, like the IFS World Conference [celebrates global innovation]
Other trade shows
On the TAE Aerospace YouTube channel
Multiple press releases
Face-to-face presentations
Have questions about our corporate video process?
Industry:
Assisted reality technology for industrial environments
What we produced:
Marketing video to explain the benefits of wearable assisted-reality technology
Have questions? Want to chat?